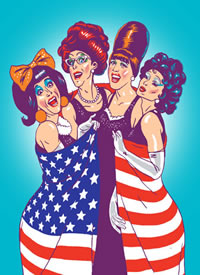 I am at Kinsey Sicks: Electile Dysfunction (playing through Feb. 19) at the DC Jewish Community Center's Theater J, an a cappella drag show in four part harmony that will be mainly anti Republican humor. I'm hoping for some actual wit. I am sitting at a cabaret table beside the stage and Candace Gingrich (or Candace Gingrich-Jones, as she is now named) is beside me at the adjacent table .
I just showed her my prank tweet from a few days ago "Gingrich to speak to gay and lesbian group Tuesday." She laughed. More later.
—————-
Yep. Incredibly stale, off the shelf liberal Democratic idiocies. The Kinsey Six made fun of the 2nd Amendment, the tea party, people who oppose taxes, debt and spending, and school choice. D-u-m-b. No comprehension of how gays need guns to protect themselves or how the state monopoly school system is the basis of anti-gay school bullying, since parents have no choice to remove a bruised and beaten child from a bad school and send him to a safer, friendlier one.
Besides defending the Obama regime and failed Democratic social and economic policies the quartet do explore the rich, if already well mined, vein of Republican theocracy and hypocrisy. But even here they fail. Winnie, the bespectacled, anachronistic member of the quartet (Irwin Keller, on the right in the video below with Candace Gingrich), does a version of the old Diana Ross hit Love Child, in which the Winnie character, a deeply closeted lesbian, purports to have had sex with almost every major Republican politician, and produced 23 children, the kids now being raised as foster kids by Michele Bachmann. How stupid can these poor gals be? They want to talk about love children and Jesse Jackson and John Edwards don't come to mind? They want to talk about adultery by politicians the week we learn that Kennedy took a teenage intern's virginity the first day she worked at the White House? (Besides Clinton, Studds, Frank.) It isn't even clear that these boys know that Bachmann's 23 children are not all foster kids born by someone else; of course Obama budget ho Jack Lew thinks it takes 60 Senate votes to pass a budget (possibly including the votes of fantasy Senators from Obama's fantasized 57 states). Apparently math is not a liberal strong suit.
The problem these warblers have, which came out in the Q&A, is that they live in a bubble. They wear blinders — the buttocks of Barack Obama, or Rachel Maddow (all starfish look the same in the dark). They actually discussed how they had left lucrative employ as lawyers (Ben Schatz, on the left below, who writes these howlers and plays Rachel, a slightly deranged skag drag troll), or at least relocated from midwestern hamlets (Spencer Brown, the pretty one, who plays the dizty Trampolina), etc. because they believe they are "challenging people to think," by regurgitating Newsweek op-eds. They see themselves as "cheerleaders" for the righteous in small conservative communities where they play; as radicals who make the liberals look moderate. Meanwhile, self-deluded, they parrot long refuted, intellectually bankrupt policies that have produced poverty and debt.
They can sing. The songs were four part harmony arrangements of pop songs everyone knows with new snarky lyrics. Peoria, to the tune of Gloria, made fun of mid Western "fly over" voters.
There were a few funny jokes if you aren't religious: "Yahweh, who is Yahweh?" "God." "God is called 'Yahweh'?". "It's his maiden name."
Founding Kinsey Sicks' members Ben Schatz and Irwin Keller, with Candace Gingrich
———————–
The audience at last night's event was heavily from a project called GLOE, which should stand for Gay and Lesbian Outreach and Engagement, but actually stands for the Kurlander Project for GLBT Outreach and Engagement. I like doing a little reportage on it too, since GLOE is having a number of interesting events that are for the gay Jewish community but open to all, which we have been promoting on this blog.
Multi-millionaire Democrat Stuart Kurlander with suggestive sign
I was around when a little fundraising battle started in the early 2000s that led to GLOE. An old acquaintance of mine, a nice Jewish lawyer, Stuart Kurlander, who I know from Clinton-Gore days when I used to hang out with gay Democratic party funders and bundlers. Stuart is, I believe, the heir to around $100 million and lives in a $4 million dollar house in DC's exclusive and lily white Foxhall neighborhood, from which he looks down on the mere $2 million houses of his Foxhall neighbor Democratic lobbyists and flaks like Tom Daschle and NBC's David Gregory. (Yesterday WTOP radio ran a story, by the way, on how 10 of the 15 richest counties in America are ringed around DC — "we are from the government and we are here to help ourselves!")
How multi-millionaire Democrats live: Kurlander's house in DC. Meanwhile the Obama budget snatches education vouchers from poor kids. (The house is nice inside too!)
An old/former friend of mine (I've actually been his Platonic date to a pro-Israel group's fundraising dinner), also gay and Jewish and multi-millionaire Democratic bundler, Ron Ginsberg, who inherited (under tragic circumstances), a family firm, Atlantic Business Realty, moved from Orlando to DC and became friends with Stuart just as Stuart was just coming out. Stuart had always been a major funder of various Jewish charities, to the tune I believe of something like $1 million a year. Ron persuaded Stuart, sometime around 2001, to begin giving half of his donations to the Human Rights Campaign and other gay groups. The Jewish groups who had previously had his entire support were not happy at all. A compromise was reached: Stuart began to fund a gay Jewish group that would have a staff and organize events by and for gay Jews but open to all, GLOE. The first such project I believe. And so we have the Kinsey Sicks performing at the DC Jewish Community Center.
Philanthropist Ron Ginsburg